About the Curriculum
One of the most challenging and exciting projects undertaken by the National Consortium of Interpreter Education Centers has been the development of a specialized curriculum devoted to Deaf Self-Advocacy. This is the first time in the thirty-year history of the federal Training of Interpreters Program that the Rehabilitation Services Administration has designated consumer education a priority.
Titled Deaf Self-Advocacy Training, the curriculum consists of eight self-contained modules. It is designed to be taught by deaf, hard of hearing or deaf-blind advocacy specialists, educators or vocational rehabilitation personnel. The training is often offered in a six hour block.

Each instructional module includes an overview and purpose of the module including goals and objectives, a description of the subject matter, an instructional plan, anticipated length of time to teach the module, optimum teaching environment and suggested materials. Each module also includes DVD vignettes of "good" and "not so good" advocacy, role-play scenarios and interactive advocacy activities, and student worksheets. As an example, please view the video here titled "A Prepared Interpreter." It demonstrates what consumers learn in the training about how briefing an interpreter prior to the assignment can make the interpreted interaction more successful.
A Second Edition, with additional modules and adaptations for deaf-blind audiences will be available in 2012-2013.
Designing the DSAT Curriculum
The development of the DSAT curriculum was conducted with an eye to detail and a commitment that the curriculum would be based in best practices and responsive to deaf consumers and counselors in vocational and community advocacy settings. In all cases it was designed within the philosophy of "…of, by, and for the Deaf Community." To this end, the team designed its work in three independent phases.
Phase 1: Determine effective strategies for teaching deaf self-advocacy
The DSAT work team engaged Communication Service for the Deaf (CSD) to identify current, best and effective practices associated with self-advocacy. CSD conducted focus groups with 35 deaf consumers, surveyed over 2,000 deaf consumers, interviewed 12 deaf leaders, and completed an extension literature review. Augmenting CSD's work was a second survey of and 180 rehabilitation counselors and an expanded annotated bibliography conducted by Western Oregon University. These findings are published in The Case for Self-Advocacy: The Need for a National Curriculum on Communication Access. Download the document below in Resources.
Phase 2: Based on the findings, develop a deaf-self advocacy curriculum
Using the data gleaned during Phase 1, curriculum was developed by the DSAT work team and independent subcontractor T.S. Writing, a deaf-owned company. The resultant curriculum is a multi-use, flexible advocacy training "tool kit," that can be adapted for a wide variety of audiences (e.g. people of color, low-functioning deaf people, deaf-blind, etc.).
Phase 3: Field Test curriculum through wide-spread consumer training
In order to determine initial effectiveness, the curriculum was reviewed by fourteen content experts throughout the United States. Pre/Post tests and evaluations were developed for use in the curriculum's initial field testing. The curriculum was unveiled in 2010 to thirty deaf advocacy specialists from commissions on deafness, vocational rehabilitation, advocacy agencies, and post-secondary education. During a two-day workshop, they learned how to use the curriculum and became "DSAT Master Trainers." They have since gone back into their communities and provided training to more than 600 deaf consumers as part of the curriculum's field testing. The information gleaned from these trainings will be used to modify and/or expand the curriculum.
Pre/Post test data has been collected from more than 300 deaf consumer participants, with new data arriving at the DSAT office every day. Responses from two sample pretest questions are shared below.
Pretest — Deaf Consumer Before DSAT Training believes that Communication Access means…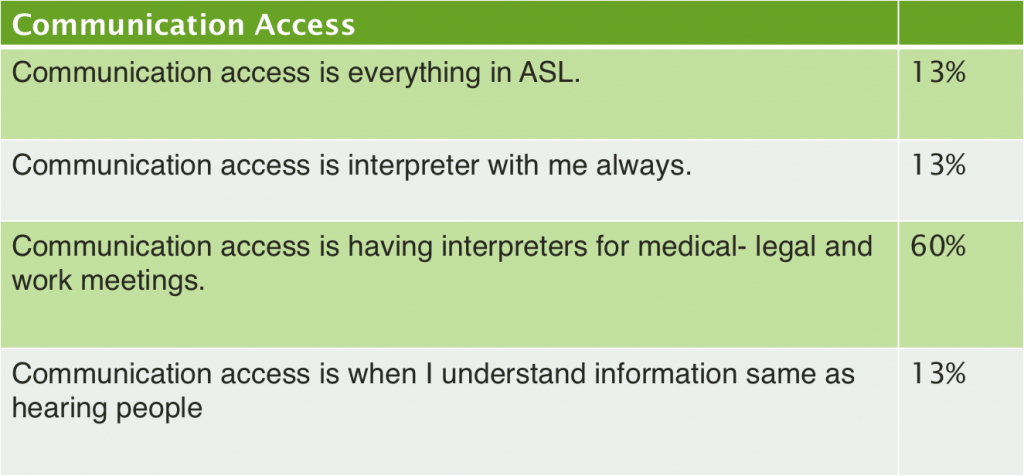 Pretest — Deaf Consumer Before DSAT Training believes that a Qualified Interpreter …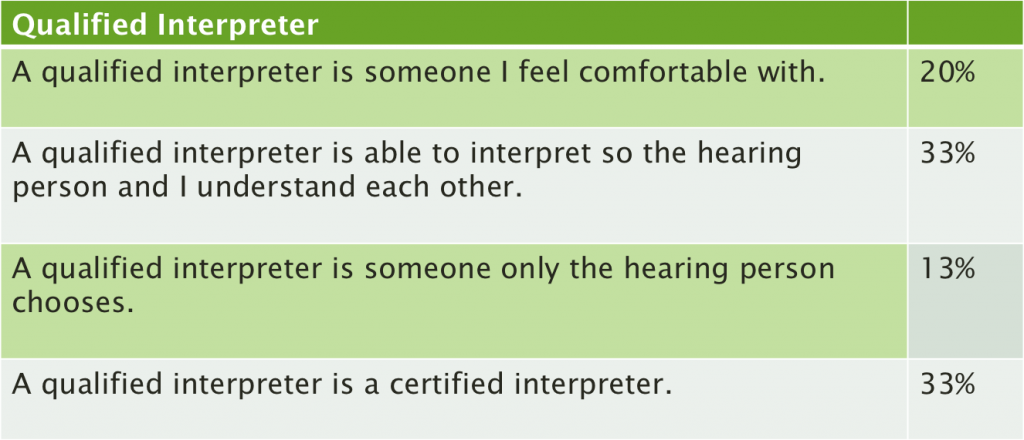 The pilot curriculum was published in 2010. Thirty deaf advocacy specialists were trained to use the curriculum. In a one year period, they provided training to more than 600 deaf, hard of hearing and deaf-blind consumers in twenty states. Consumer trainers continue to provide trainings today, along with a core group of Master Trainers who are also qualified to provide Train the Trainer Workshops. They are listed in the Directory of DSAT Trainers. In the meantime, the DSAT Work team, with the guidance of the Master Trainers, is working diligently on the second edition of the Deaf Self-Advocacy Training, entitled Deaf Self-Advocacy Training Curriculum Tool Kit, Second Edition. Look for it in the summer of 2012.
DSAT Creators (2005 – 2010)
Pauline Annarino, WRIEC
Rubin Latz, Minnesota Department of Vocational Rehabilitation
Richard Laurion, CATIE Center
Lillian Garcia Peterkin, National Interpreter Education Center
Rosa Ramirez, CATIE Center
Alberto Sifuentes, NURIEC
2010-2015 Participating Centers
Western Region Interpreter Education Center (WRIEC) – Lead
Western Oregon University and El Camino College
annarinopg@gmail.com
National Interpreter Education Center (NIEC)
Northeastern University
l.garcia@neu.edu
Northeastern University Interpreter Education Center (NURIEC)
Northeastern University
d.doucette@neu.edu
Gallaudet University Interpreter Education Center (GURIEC)
Gallaudet University
beverly.hollrah@gallaudet.edu
CATIE Center
St. Catherine University
rlaurion@stkate.edu
MARIE Center
University of Northern Colorado
Anna.Witter-Merithew@unco.edu