March of 2010, thirty deaf and hard of hearing advocacy specialists participated in a three-day workshop with the goal of becoming DSAT Consumer Trainers.  Since that time, they have provided consumer trainings throughout the country.  This group of individuals was chosen for their knowledge of and passion for advocacy, their desire to provide advocacy training, and for their access to the Deaf Community and consumers of vocational rehabilitation.
In August of 2011, fourteen of these individuals returned for second three-day meeting at Gallaudet to share their experiences, provide feedback and suggestions for the upcoming Second Edition of the curriculum and develop a train-the-trainer curriculum. This core group of fourteen is referred to as DSAT Master Trainers. In addition to providing consumer trainings, they are qualified to conduct train-the-trainer trainings to deaf, hard of hearing and deaf-blind individuals interested in becoming a DSAT Consumer Trainer.
Directory of DSAT Consumer and Master Trainers
The Directory below lists DSAT Consumer Trainers. In addition, those DSAT Consumer Trainers who are Master Trainers are also identified in the Directory. Many of these individuals are available to provide training upon request, which is often taught in a six to eight hour blocks of time or longer. While the Directory groups the trainers according to the NCIEC region in which they reside, they may be available to travel outside the region. Please contact them directly to learn of their availability and service fees (if any). Also, please note that those without contact information are not available for training.
Trainer Attributes and Qualifications
Based on the effective practices findings of Communication Service for the Deaf (CSD, the DSAT curriculum is designed as a peer-led training. In addition to this strong preference for Deaf, hard of hearing and Deaf-blind trainers, trainers must also have:
• Native level fluency in ASL
• A strong knowledge of and ongoing exposure to the Deaf community
• A working knowledge of the target audience's needs
• In-depth knowledge of local, state and national resources
• Ability to translate written contents into communication modes and/or language choices appropriate for participants.
NCIEC Regional Center Map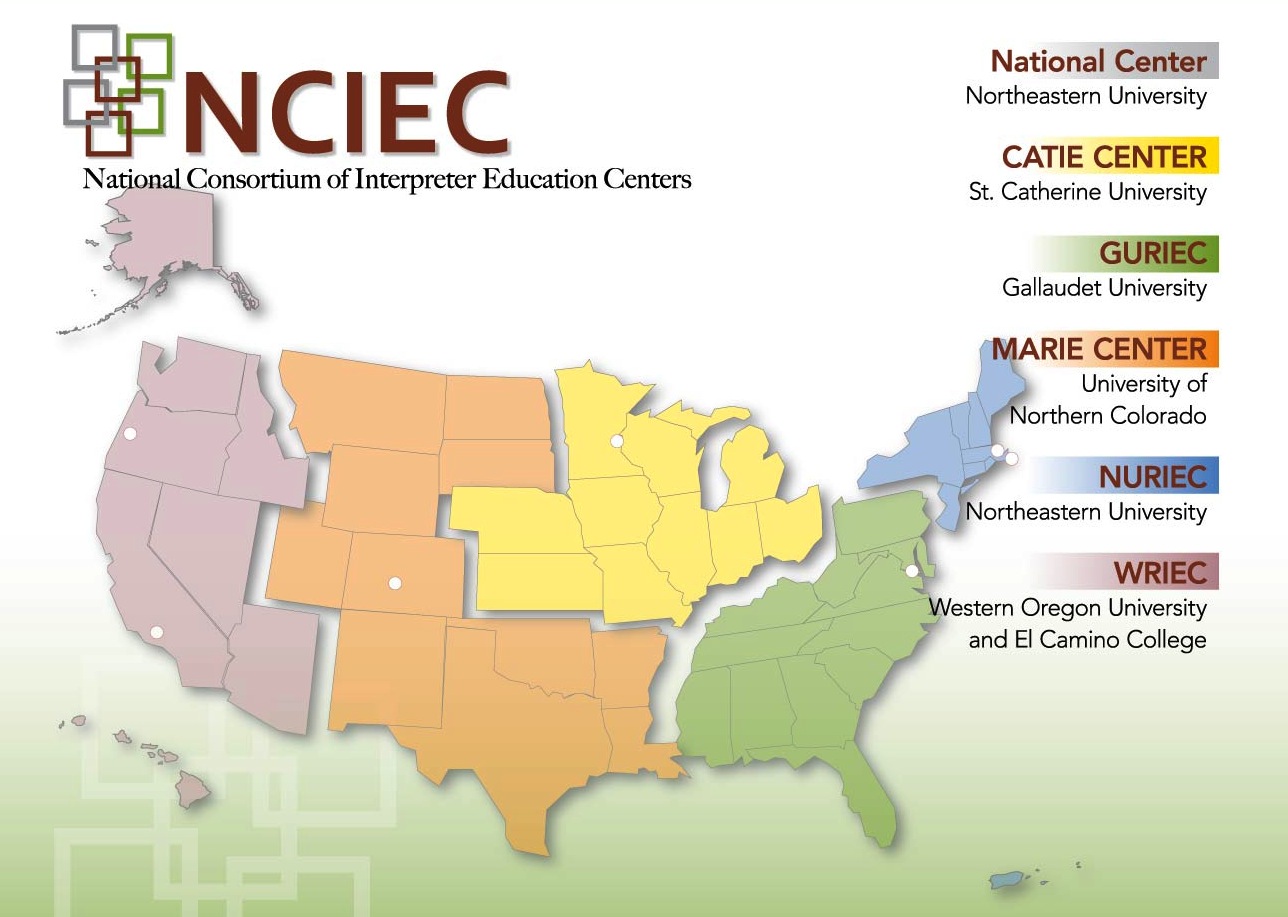 Directory of DSAT Master Trainers
CATIE Center Region: Upper Mid-West
Name*
City/State
Contact Information
Availability
Charleen Scully*
Indianapolis, IN
Charleen.Sculley@aspireindiana.org
Ph # 317-542-3323 VP
Please contact for availability
Lance Sigdestad
Sioux Falls, SD
Susan DeBauge
KS
Sheila Faricy
Sheryl D. Emery*
Southfield, MI
Sherylem1@aol.com
Please contact for availability
Laura J. Thomas*
E. Moline, IL
Laura.Thomas@hknc.org
Available most times. Please contact for availability.
*Refers to DSAT Master Trainer available for Train the Trainer workshops
GURIEC Region: Atlantic Seaboard and Southeast U.S.
Name*
City/State
Contact Information
Availability
Antia Dowd
Frankford, KY
Anita.Dowd@kcdhh.ky.gov
Please contact for availability
Randy Shaw
Duluth, GA
randyshawcdi@msn.com
Please contact for availability
Julie Burton*
Cedartown, GA
jburton@gachi.org
Please contact for availability
Jimmy Autrey*
Morganton, NC
jimmy.autrey@dhhs.nc.gov
Please contact for availability
Mona Ivey
Montgomery, AL
mivey003@gmail.com
Work VP- 334- 239-3761
Home VP- 334-239-3704
Please contact for availability
Howard A. Rosenblum
MD
*Refers to DSAT Master Trainer available for Train the Trainer workshops
MARIE Center Region: Mid-West
Name*
City/State
Contact Information
Availability
Rob Loveless
Denver, CO
rob.loveless@state.co.us
Daytime, weekends, no evenings
Alma Rosa Bebee*
Corpus Cristi, TX
abebee@deaf-hh.org
361-288-8817 VP
Most days, evenings and weekends.
Ann Horn* &
Randi Turner*
Austin, TX
randiturner.texas@yahoo.com
512-410-7691 VP
512-567-2634 (V-cell) can text or call.
Taught as a deaf/hearing team.
Possible weekdays, prefer evenings and weekends.
Corina Gutierrez*
Albuquerque, NM
Corina.Gutierrez@state.nm.us
Please contact for availability
Kimberly Thornsberry*
Salt Lake City, UT
kmtberry4@gmail.com
Please contact for availability
*Refers to DSAT Master Trainer available for Train the Trainer workshops
NURIEC Region: Northeast and Caribbean Island Territories
Name* 
City/State
Contact Information
Availability
Michelle Ames
Portland Maine
amesm1@comcc.org
Conducted through Community Counseling Center. Contact Kristine Dach at dachk@comncc.org
Keri Darling*
VT
kdarling@dvas.org
Please contact for availability
Lillian Garcia Peterkin*
CT/NY
l.garcia@neu.edu
203-764-2092 vp
Available days, evenings and weekends
Tammy Ennis *
Bridgeport, CT
tammy.ennis@gmail.com
Please contact for availability
Ivy Velez
Marlborough, MA
IMVelez@sprint.blackberry.net
866-927-7805 – VP
Please contact for availability
WRIEC Region: Western U.S. and Pac Rim Islands
Name*
City/State
Contact Information
Availability
Elizabeth Andrews
Anchorage, AK
Brenda Aron
Seattle, WA
Baron@sccd.ctc.edu
Baron1981@comcast.net
Evenings and weekends
Don Redford III
WA
Tim Riker *
Sacramento, CA
tbriker@gmail.com
916-514-5644 VP
916-802-0725 Voice
Please contact for availability
Colleen Matusof
Honolulu, HI
colleenkmatusof@gmail.com
Please contact for availability
Kevin Mills
Los Angeles, CA
*Refers to DSAT Master Trainer available for Train the Trainer workshops