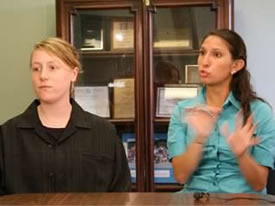 The role of a mentor is crucial to the advancement of skill and knowledge for many mentees/protégés, and is often the key to them becoming certified.  Mentorship is a relationship in which information, guidance and training are given over a period of time. As a mentor, it is important that you have the knowledge and experience to support mentees/protégés as they work on their performance objectives.  The Master Mentor program refers to mentoring as skill multiplication and says, "mentors are capacity builders and skill multipliers who know how to guide adult learners in a lifelong process of professional self-discovery."
Results from surveys completed in 2007 by mentors and mentees identified the following mentor qualifications to be the most important.
Certification:  an overwhelming majority of mentors indicated that holding professional certification in interpreting is fundamental to becoming a mentor.
Availability:  mentees most often chose to work with mentors who gave time and attention to the mentorship.
Ability to provide support:  mentors who were the most sought out were those known to be nurturing and supportive.
Patience and respect:  mentors who are known to be patient and respectful are among those sought out most often by mentees.
Training:  89% of respondents felt training was essential in becoming a mentor.  Mentors who received formal mentor training left feeling well prepared and confident to work with others in mentorship.  Training programs offering the widest range of mentoring tools and longest duration were seen as the most valuable.
Experience:  practice working in the interpreting profession and familiarity with an assortment of settings and specializations help prepare the mentor to respond to many of the issues that confront the mentee.
Specialty Skills:  mentors should be trained to deliver both language-specific and interpretation-specific mentoring services.  Mentors that were known to be skilled in a specialty area were often sought out to help mentees in those same specialty areas.
Mentoring tools:  people seek mentorship for a myriad of reasons and come with an array of learning styles, needs, and experiences.  Therefore, the mentor needs to have a broad understanding and an extensive collection of skills and abilities, or mentoring tools, to be successful.