About the Legal Interpreter
Professional Development
Resources
Highly qualified interpreters are needed to work in legal settings—particularly in court and law enforcement proceedings where matters involving high-risk and personal freedoms are often the focus. According to several needs assessments conducted by the NCIEC (2007; 2010), there is a shortage of qualified interpreters to work in legal settings. Therefore, one of the goals of the NCIEC is to promote the training and certification of interpreters in this area of specialization.
Interpreting in the legal setting is a long-recognized area of specialization in the field of ASL-English interpreting. The legal setting is broad and includes law enforcement investigations, interviews and interrogations, client-attorney interactions, and a wide range of court and legal proceedings. Tradition from the field of spoken language interpreting and the legal community contribute to the conventional way legal interpreting work is performed. As well, practices have been conceived by ASL-English interpreter practitioners over time through a process of application of theory drawn from the profession's scholarship. As a result, patterns of practice and best practices have been identified and guide the work of practitioners in this area of specialization.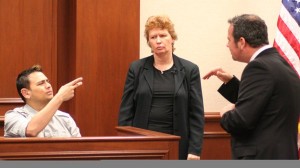 Working in the legal setting requires advanced interpreting competence—including the ability to fluently execute consecutive and simultaneous interpreting of complex texts, work effectively in teams—particularly the ability to work collaboratively with Deaf Interpreters (DIs), and to adapt language use to a wide range of sign language users. Further, it requires an in depth understanding of law enforcement and the legal system.
There are unique parameters impacting the work of interpreters in this setting that are the result of case law, legal and evidentiary procedures. Typically, the knowledge and skills required of interpreters to work in this setting are acquired after completion of a solid academic foundation in interpreting, coupled with multiple years of practice, followed by specialized training in legal interpreting and supervised field experience.
Certification of interpreters in this area of specialization is administered by the Registry of Interpreters for the Deaf, and requires that one possess generalist certification, and completion of a set number of hours of training and supervised work experience prior to application. The certification process involves a stringent written and performance exam. More information about the Special Certificate: Legal can be found at the RID website.
Directory of NCIEC Master Legal Trainers
Preparing Deaf and hearing interpreters to interpret in court and legal settings was a concentrated focus for the NCIEC that led to the development of two sets of curriculum and the hosting of two train the trainer events led by Anna Witter-Merithew, M.Ed., Director of the MARIE Center. With support from the NCIEC regional centers and the University of Northern Colorado's DO IT Center staff, Carla Mathers, Anna Witter-Merithew, along with teaching consultants, Eileen Forestal, Pasch McCombs, and Lynne Wiesman, implemented the train-the-trainer seminars.
All of the trainings can be adapted for seminars and course work, study groups, mentoring sessions and other types of learning activities.
These master trainers have received concentrated training on five thematically-based modules focusing on areas in legal and primarily court interpreting for which deaf interpreters have often been retained. The thematically-based Deaf Interpreter modules are:
Master Trainers for the Deaf Interpreters in Legal Settings
These master trainers have received training on how to implement training packages focused on an aspect of legal or court interpreting central to the work of interpreters in this setting. These training packages included these topics:
Interpreting Lines of Questioning: Designed to increase the ability of participants to interpret structured lines of questioning as they are used in legal contexts
Increasing your Scope of Influence as a Legal Interpreter: This package assists participants with understanding of their own styles of communication and identifying the characteristics of the communication styles of others towards the goal of effective collaboration.
Proceedings Interpreter(s): Prepares participants to function as proceedings interpreters by examining role and responsibility and application of best practices.
Preparation Strategies for Deaf-Hearing Interpreting Teams: Assists participants in gaining an appreciation of the various elements associated with team preparation and the agreements needed to guide effective collaboration between team members.
The Master Trainers for the General Legal Settings
The individuals listed in this Directory are available to provide trainings and workshops. For questions about trainers' availability and fees, please click their email addresses to contact them directly.